I've had the opportunity to work on some really interesting buildings over the years, but one of the most memorable experiences I've ever had as a construction consultant—a.k.a owner's representative—has to be when Quadra signed on to manage the restoration of the historic Ritz Plaza Miami Beach.
Before it opened as the SLS South Beach in 2012, this beautiful Art Deco hotel at the corner of Collins Avenue and 17th Street in Miami Beach was known as The Ritz Plaza. It was originally built as the Grossinger Beach Hotel under the guidance of architect Lawrence Murray Dixon, who built many other pre-war hotels and homes in the area in the Art Deco style. However, the Grossinger name was short-lived. Shortly after construction had finished on the hotel in 1940, the United States entered World War II, and the hotels of Miami Beach had some unexpected, though not unwelcome, guests.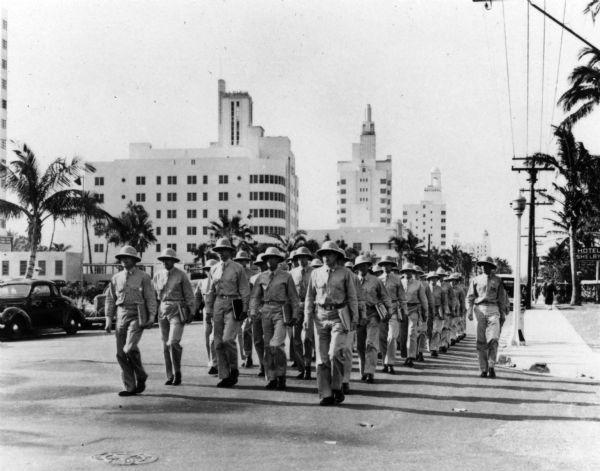 During the war, the U.S. military used many of the hotels in Miami Beach, which had become a training ground for the armed forces, as housing for the troops and officers. While the troops and officers trained for operations like D-Day out on the beach, these hotels offered them a quiet refuge during downtime. The fancy armchairs and beds in the rooms might have been replaced by army cots, but it was still a place to call home for these soldiers. By the time it opened back up, it was renamed The Ritz Plaza.
When we got the opportunity to work on the hotel to reclaim the original look and feel of the hotel—recreating everything from light fixtures and balustrades to the iconic portico entrance and hotel signage—I knew that we had our work cut out for us as a construction consultant firm. I also knew that it would all be worth it.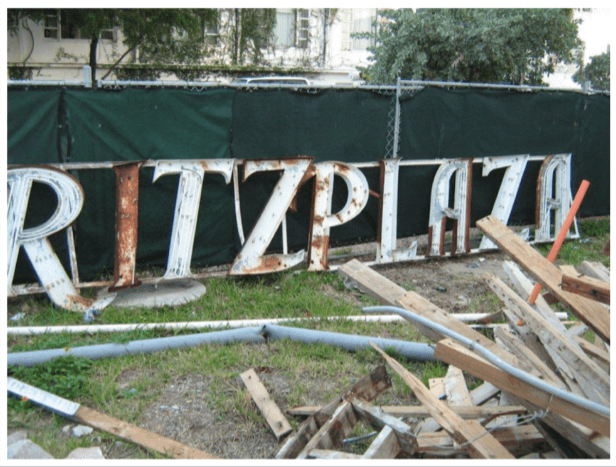 Getting Approval to Start Work
Given that the SLS South Beach building was on the National Historic Register, the Historic Preservation Board of the City of Miami Beach and the Department of the Interior really made us jump through some hoops to get the project off the ground. One such request was to assemble a historic resources report with old photos, press clippings, and relevant periodicals throughout its history. At the time, the Historic Preservation Board was at the height of its control over projects like this one, so we had to do our research in order to gain Historic Board approval and obtain a building permit. Which meant that we had to create and review many different historical resource reports.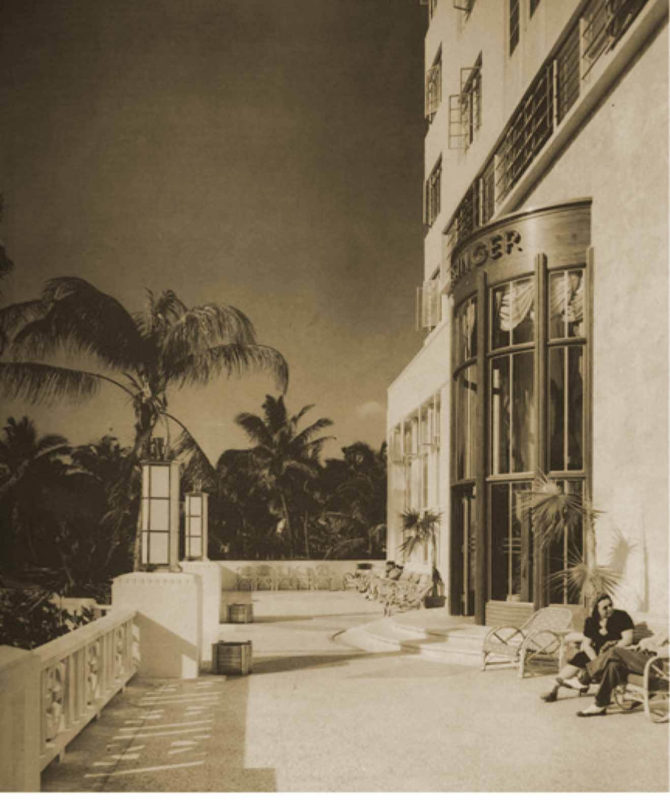 We had preservationists and historical consultants alike coming in from all over to tell us about the building's significance to Miami Beach. One of them, I recall, referred to the building as a part of "the holy trinity of Miami Beach Art Deco architecture," along with the Delano and National as the tallest examples of Art Deco south of the Empire State Building. In the end, it all worked out for us—our permit was issued and we started Phase 1: Demolition. We had to selectively demolish the interiors (walls, floors, ceilings, windows, etc.) with surgical precision to restore this gorgeous building to its original glory.
A Rare Find
In reading all the research we were compiling about the history of the building, about how it all came about and its role in the war and beyond, we started to get a better appreciation for the things we were finding inside the walls. We found all kinds of things, everyday objects like bottlecaps, things that showed how people lived.
Then we hit the motherload.
I mentioned before that many of the hotels in Miami Beach became housing for the military during the war. The troops shacked up in a bunch of the other hotels on Miami Beach, but the high-ranking officers got to stay at The Ritz Plaza. Many naval officers lived in this hotel while just outside their windows soldiers trained to storm Omaha Beach, Normandy.
Well, one of those officers must have forgotten something after the war ended, because inside one of the walls was an old porthole from a United States Navy battleship. That thing had to weigh something like 60 pounds. It made a huge impact on me. I knew that if there was anything that I wanted to take from the site for posterity, it was this. So, I said to myself, "Alright, I'm taking it home." Now it sits in my office.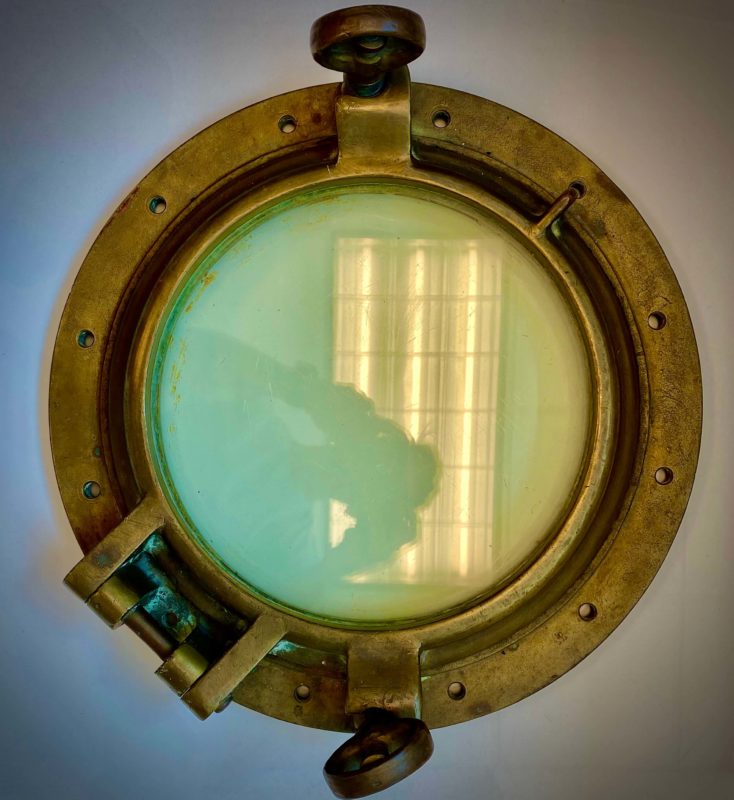 Part of the reason finding this artifact made such an impression on me was because of my family history.
Why It's Important to This Construction Consultant
My family is a Navy family. It might not be the U.S. Navy, but it's still important to who we are. My dad attended The Cuban Naval Academy, where he got his engineering degree. But he didn't just go there to rise in the ranks and get an education. He went in with a plan.
It was how he was going to defect from Cuba and come to the United States.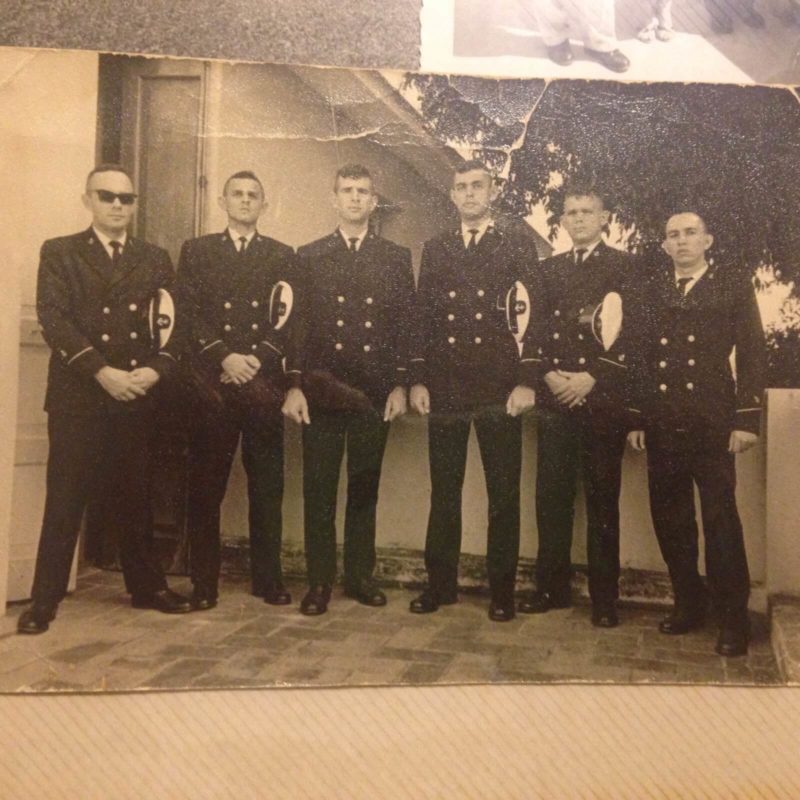 He and my mother had gotten married while they were still in Cuba, but they kept it kind of hush-hush so that no one else would know. They wanted to make it so my dad could jump ship (literally) without causing trouble for my mom. So, he jumped ship in Japan. He was waiting for asylum in the U.S. for about six months. What was my mother doing during this time? She was living it up in Madrid! They had decided that she would get out through Spain when my father defected. Finally, after being out of communication with everyone he knew for half a year, my father made it safely to my mother's family in California, where she later reunited with him. So, that was my family's kind of unique exit from Cuba, and it was all thanks to my dad's naval career.
Whenever I look at that porthole in my office, I am reminded of the sacrifices of others that make my life—all our lives—possible.