For more information on the SLS Brickell, click here. You can learn about development management and owner's representative services from Quadra Consulting here.
Completed in 2016, the SLS Brickell Hotel & Residences is a 52-story mixed-use hotel and condo project that I am proud to have been a part of and eventually add to Quadra's portfolio. Overall, the cost of the project exceeded $230M, $130M of which was the construction contract. The building itself has over 1.2 million gross square feet, with the first ten floors—the hotel portion—under our management.
SLS Brickell
The project was initially conceived by The Related Group as a standard high rise condominium tower under a different name, but sales were less than stellar but soon after the concept was enhanced and the project was given new life when a joint venture was forged between The Related Group and SLS Hotels. The result was a powerhouse project that included a hotel concept and its amenities within the first ten floors. The hotel concept included two renowned restaurant concepts, a lounge/bar concept, an Events floor (9th floor) including a 15,000 SF Ballroom with pre-function rooms, board rooms, and multifunction rooms. Finally, the Pool Deck level included a Ciel Spa with five treatment rooms, a fitness center/gymnasium, yoga room, movie screening room, billiard room, party room, expansive pool deck with three (3) pools. All this while the condominium portion occupied the remaining 45 floors from Floor 11 – 55. For the first ten floors, it was strictly a hotel; from floor 11 through 52, it was strictly condos. It sold well. Part of the intrigue, I think, that made it so attractive to buyers was that it is kind of cool to say that you live in a building with a hotel in it—not to mention that it is a beautiful design, both inside and out.
Much of that beauty is thanks to the vision of superstar designer Phillipe Starck. Even though Starck was not very accustomed to doing this type of high-rise tower, he did a phenomenal job. If you are not familiar with Starck's work or his ideas about design, his TED Talk is a good overview.
World-Class Dining
Inside the SLS Brickell, guests and residents were offered a couple of world-class dining options: Jose Andres's Bazaar Mar and Michael Schwartz's Fi'lia. That is before the COVID world took hold. These restaurants were based on two distinct concepts for two distinct chefs with different needs. That was actually one of the biggest challenges of the entire project—all the different parts that needed to come together, the hotel and condo and two restaurants. But come together they did.
There are some of those iconic Phillipe Starck moments in the building where things are very minimalist. For instance, the hotel lobby is just concrete with a humongous led screen, and then it's all very, for lack of a better word, stark. You have punches of color in fabrics and textures contrasted with an almost cold ethereal quality.
And then you have Fi'Lia, with nice warm accents and reclaimed woods. I actually had a chance to travel to Ohio to a lumber mill specializing in exotic woods and veneers to pick select among other exotic species of wood, the live edge bar tops specified by Starck. I eventually settled on a Spessart oak specimen imported from Germany that fit our requirements perfectly and matched seamlessly with the oak-paneled ceilings, floors, and walls being fabricated locally. It is always rewarding to get into the details of a project and select the materials being used on the walls, floors, and ceilings, and everywhere in between.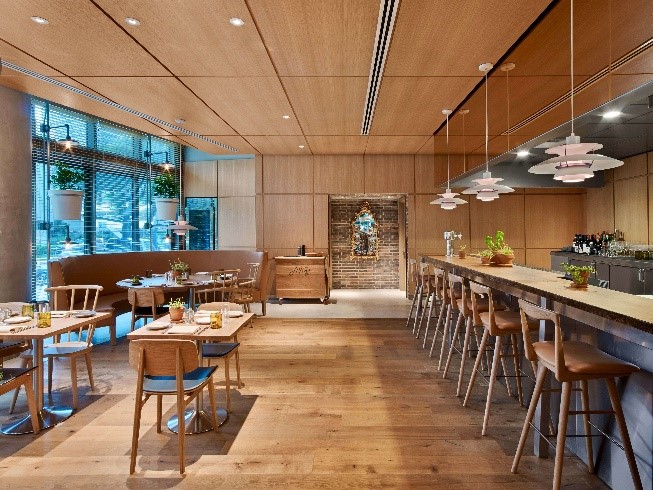 On the mezzanine level, Starck switches to a nautical theme with an adventure-focused design conveying imagery and scenes of exploration and adventure from the past and present. The rugs in the space were custom designed and woven to give the appearance that guests are walking on nautical maps. Starck finished the space as they typically do with accessories and pieces from local stores, theme shops, flea markets, and pick-yards. They go on their shopping sprees two weeks before the Hotel opens, flying in from Paris to curate artifacts locally, sometimes shipping things from Paris. When they curated SLS Brickell, I remember some long receipts and large figures spent on knickknacks and tchotchkes but that is where their design magic happens and their designs all come together.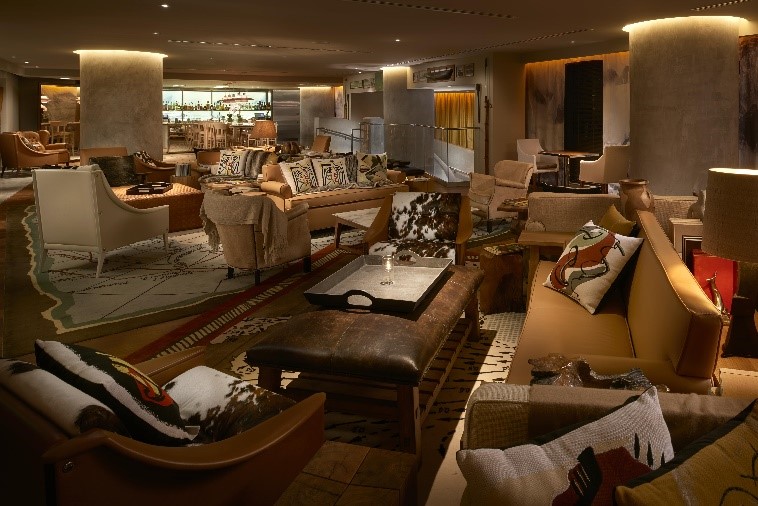 During that process, they ended up buying quite a few nautical photos. I happened to have a photo of my dad at his graduation from the Cuban Naval Academy hanging in my office. They actually ended up putting a copy of that up in the mezzanine space.
Azulejo Tiles
The Bazaar Mar called for a different design. Starck wanted to riff on Jose Andres's Spanish roots with the design of the restaurant, so he came up with the idea of making it feel like you are part of something distinctly Spanish. Azulejo tiles, which trace their origins to the 13th century in Spain and Portugal, seemed to fit the space perfectly albeit manipulated with Starck's typical whimsical and irreverently fun style.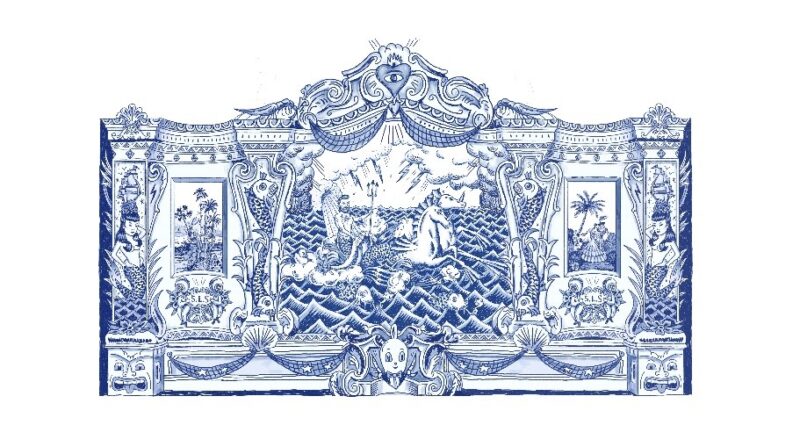 The team set out to find an artist whose amusing and playful style captured the vision of the space. Enter Sergio Mora, the highly regarded artist from Madrid, who was deftly able to capture Starck's "Alice in Wonderland" vision for this series of tiles in a way that no other artist could have. Once Mora completed the initial designs, they were then transferred onto the tiles by artisans from Talavera, Spain. I had the privilege of traveling to Spain to meet the fabricators, Ceramicas San Gines, and tour the factory while checking on the production on the azulejo tiles. It was amazing to watch these artists and artisans produce each of these individual works of art one by one and then watch them come together months later by installers in Miami to form a brilliant and delicate handmade patchwork mural. We formed friendships with a number of the people that we had the pleasure of working with along the way from Pedro & Monica at San Gines, to Sergio, and so many others that contributed to their production.
They ended up asking if we, the project team, would be interested in having tiles done with my likeness on it and we agreed. It was a very fun process and now these tiles are up on the wall in the restaurant for everyone to see. However, with all the detail that went into the overall design of the rest of the thousands of tiles that cover the walls, you might have a difficult time finding them.